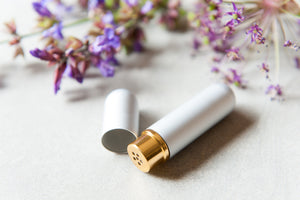 Personal Inhaler - Essential Oil
For Aromatherapy Use - each inhaler is 3.5 inches x .75 inches. Removable inner container is clear glass. Outer shell is aluminum.
Dissemble the inhaler, insert a wick in the glass bottle with 1/4" remaining above the lip and drip your chosen oils on the wick.
Simply remove the top cap, bring the inhaler close to your nose and inhale.
Enjoy your essential oils anytime and anywhere.
Perfect for your purse, car, office, nightstand, pocket, backpack, briefcase - anywhere you are