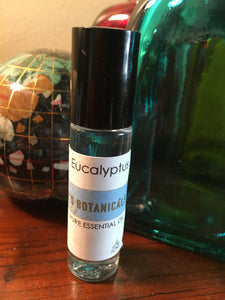 EO Roll On - Eucalyptus
Is antibacterial, antifungal, antimicrobial, anti-viral, anti inflammatory and decongestant in nature which makes it a good ingredient for many medicines for treating respiratory problems.  It also benefits muscle pain and fevers.
Mind: Benefits mental exhaustion as well, stimulating, removes sluggishness and rejuvenates the spirits of the sick.  It is also effective for treating stress and mental disorders.
Skin Care: applied topically to treat skin infections.  Is a good antiseptic owing to its germicidal properties.  On its exposure to air, ozone is formed which is a well known antiseptic.
Room Freshener: The antiseptic and deodorant nature of eucalyptus oil makes it a perfect room freshener for hospitals and sickbed atmosphere. It also kills bacteria and germs in the air and hence keeps the room environment clean.
Sauna: Many people add eucalyptus oil to baths, spas and saunas due to its refreshing and antiseptic effect.