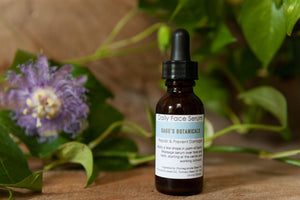 Daily Face Serum
Our newest addition to our facial care!  We are so excited for this deeply nourishing and repairing oil.  It is a blend that includes Tomato Seed Oil, Pomegranate Oil, Pumpkin Seed Oil, and Orchid Extract.
And why you wonder - well here are some noted highlights on these oils - 
Tomato Seed Oil - found to reduce signs of aging, encouraging regeneration of skin cells, suitable of age spots, dry, oily, combination and mature aging types.  Known to benefit wrinkles, scars and stretch marks.
Pomegranate - Rich in Vitamin A, C, E & K - It makes skin smooth and soft, nourishing and giving it a healthy glow.
Pumpkin Seed Oil - Increases firmness, battles free radical damage, deeply moisturizes, encourages cell turnover and soothes irritation and redness.
Orchid Extract - orchids have long been used for reparative and protective properties, moisturizing, fighting free radicals, and reducing the appearance of fine lines.