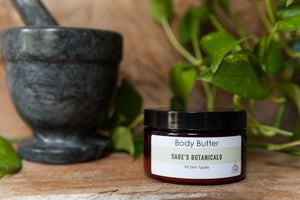 Body Butter
4 oz of Shea, Avocado, Aloe and Mango Butter Blend with varying essential oils
Body butters are good for the skin because they contain emollients from the rich nut oils inside the seeds. These little moisture beads wrap the skin in a blanket of pure moisture that lasts longer than your average lotion.

Body butters form a protective barrier over the skin to hold in moisture. Our skin has a natural barrier which is meant to help protect us from the elements. Dry air, hot sun and cold winter weather can take a toll on the skin. Body butters form an additional layer of protection for our skin.


All body butters are rich in essential omega 3 fats. These fats benefit the body internally as well as externally. Omega 3 fats are very moisturizing and they help to calm inflammation.  Body butters also contain high levels of key antioxidants such as Vitamin C, E, and A. Shea is one of the most well known body butters. Shea butter contains extra vitamin E to rejuvenate the skin.


After using body butters many people notice that their skin is remarkably soft. The rich cream eliminates dry, cracked conditions and can be beneficial to people with eczema or other skin conditions. People who suffer from eczema are not able to retain the proper balance of moisture in their skin.